November 28, 2022
BBC Studios swoops for Voltage TV
BBC Studios has bought Voltage TV outright as the DNA Journey producer exits the Channel 4 Growth Fund.
Co-founders Sanjay Singhal and Steve Nam have struck a first-of-its kind deal with BBCS Productions chief exec Ralph Lee in which the corporation's commercial arm has fully acquired a business upfront, without first owning a minority stake. It signals BBCS' belief in Voltage, as well as its renewed appetite for investment in unscripted indies.
BBCS holds minority stakes in labels including Expectation and Mothership Productions but Voltage becomes its first wholly-owned unscripted business. It parted ways with Curve Media, in which it also owned a minority stake, last week.
Under the terms, BBCS has bought out the 25% stake in Voltage owned by C4's Growth Fund. The indie was established in 2013 and signed with C4 two years later.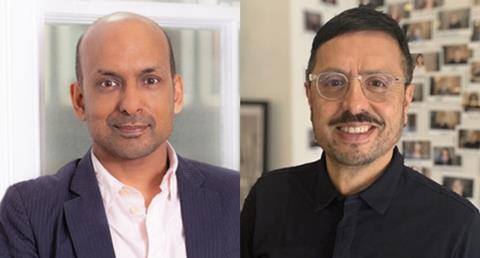 Sanjay Singhal and Steve Nam
BBCS has a longstanding distribution relationship with Voltage, which has produced Trouble At Topshop and Inside the Factory for BBC2 and is working on Amanda and Alan: The Italian Job for BBC1.
Voltage is also behind DNA Journey and Jimmy Savile: Portrait of A Predator for ITV, The Great Plague for Channel 5 and The British Tribe Next Door for C4.
It has a travelogue fronted by Danny and Dani Dyer (E4), reality format Tempting Fortune (C4/Roku) and The Fake Sheikh (Amazon Prime Video) on its slate, as well as a feature film with Lighthouse about Prince Andrew's notorious Newsnight interview.
BBCS' Lee said: "We've admired Voltage for a long time, which is why when the opportunity arose, we moved quickly to acquire the business outright."
Singhal added that BBCS is an organisation that "champions risk-taking" and shares the indie's creative ambition.
"I started at the BBC as a trainee exactly 30 years ago. Then, it was producing programmes that were world-beating – and it still is," he said.
Nam is looking forward to the impact BBCS' global reach will have on the indie's growth.
"When BBC Studios approached us it just felt a natural fit, and I'm a firm believer in gut instinct. Our distribution relationship with BBCS dates back to the launch of Voltage and we look forward to continuing to flourish through their impressive global reach," he added.
Caroline Murphy, head of C4's Indie Growth Fund, told Broadcast in March that she expected at least two of the established companies to exit the fund.
Read the full article here

READ NEXT: Voltage's 'Fake Sheikh' for Amazon Prime makes BBC Highlights for 2023
READ PREVIOUS: Deadline: Amazon unveils 'The Fake Sheikh' In True-Crime Push — Edinburgh TV Festival